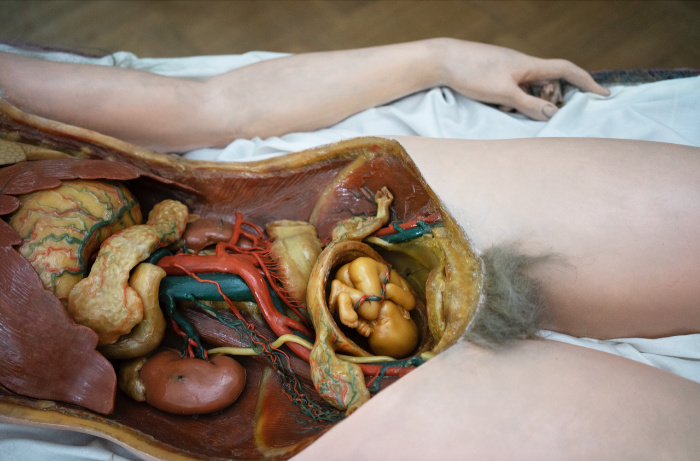 Ansicht: Take Care: Art and Medicine - Key moments in medical history, Kunsthaus Zürich, Zurich, Switzerland, 2022
Diese drei Leuchtkästen zeigen die Phasen des Auseinandernehmens und der Reinigung der Venus Medici, eines anatomischen Wachsmodells einer Frau aus dem Jahr 1785, das im Josephinum in Wien ausgestellt ist. Das Modell stellt seine Organe für wissenschaftliche Zwecke und aus praktischen Gründen zur Schau, eine Zurschaustellung, die sowohl sexuell als auch kraftvoll ist, ähnlich wie bei Gustave Courbets L'Origine du Monde.
***
These three lightboxes show stages of the dissection and cleaning of Venus Medici, a wax, biological model of a woman, made in 1785 and on display at the Josephinum in Vienna. For a scientific and pragmatic purpose, the model exhibits her organs, a display at the same time sexual and powerful, much like the subject of Gustave Courbet's L'Origine du Monde.