Ansicht: Galerie mezzanin, Wien, 2006 / Foto: Manuel Gorkiewicz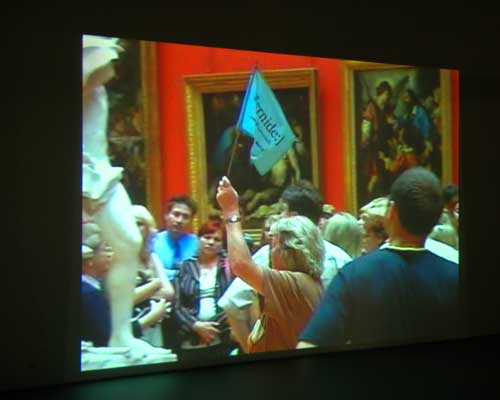 Ansicht: Galerie mezzanin, Wien, 2006 / Foto: Manuel Gorkiewicz
Wissen, zugeschnitten für einen Rundgang, bei dem die Teilnehmenden den Worten eines Touristenführers und einer winkenden Signal-Fahne in Form eines Regenschirms, oder eines auf einer Stange drapierten Federbuschens, Schals oder Taschentuches folgen, wird so als Uniformität von Wissen dargestellt. Gefolgt wird oft trotz möglicher Fragwürdigkeit und Langeweile im Glauben an eine Wichtigkeit und Richtigkeit. Jermolaewa filmt in Städten wie Prag, Budapest, Moskau, St. Petersburg, Paris, Istanbul, etc. - an Orten, wo sich die Touristenströme überlappen und die kleinen bunten Wimpel über den Köpfen der Menschen das wilde Durcheinander ohne Mühen zu bewältigen wissen. "Folget dem Zeichen" ein fast biblisches Zitat, das sich in nächster Vergangenheit immer wieder im Bild des politischen Marschierens in die Laufrichtung der ideologischen Erziehung einer Gesellschaft bewährt hat. Anna Jermolaewa konserviert quasi Restexistenzen dieser Verhaltensmuster in ihrer Videoarbeit "Regenschirmdemos" (2004-2005).
Auszüge aus den Texten von Karin Pernegger und Lene Leicht für Galerie mezzanin.
***
Take a guided tour in a crowded place you will not only follow the words of a tour guide, but also a visible signal, often a little flag or an umbrella held aloft or a scarf or handkerkief attached to a stick. The cut-to-size knowledge transmitted on such tours, usually in the form of a descriptive narrative, is also a waving signal, an unquestioned series of signs to follow. Anna Jermolaewa shoots her videos in cities such as Prague, Budapest, Moscow, St. Petersburg, Paris, and Istanbul: places where the swarms of tourists merge and the little coloured flags above their heads help to manage the confusion. The scenes with the crowds following their standard bearers or marching behind banners evokes the image of political parades and demonstrations proclaiming ideological hopes and struggles. It is as if Jermolaewa's video Umbrella Demonstrations (2004-2005) records the vestiges of this image in the behaviour of tourists.
Excerpts from the texts written by Karin Pernegger and Lene Leicht for mezzanin-gallery.