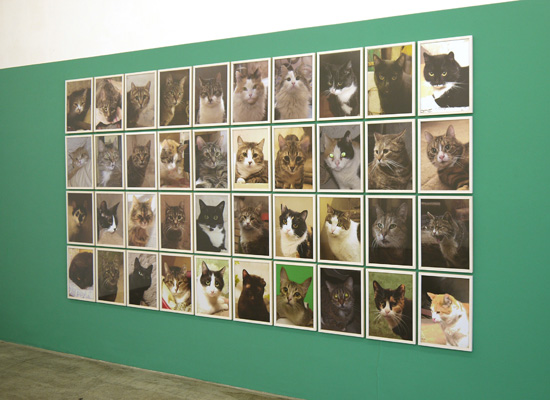 Ansicht: Kerstin Engholm Galerie, 2013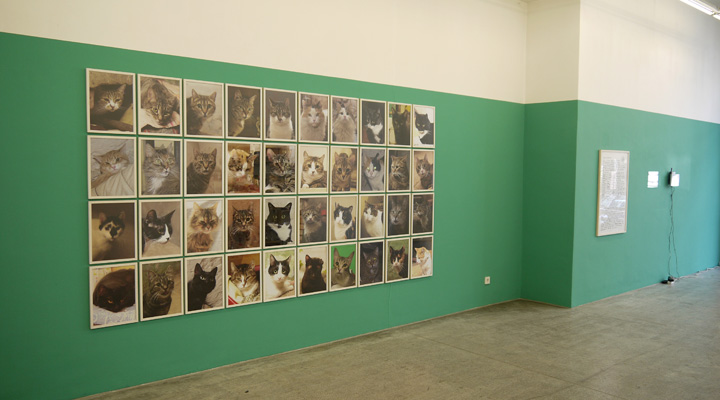 Ansicht: Kerstin Engholm Galerie, 2013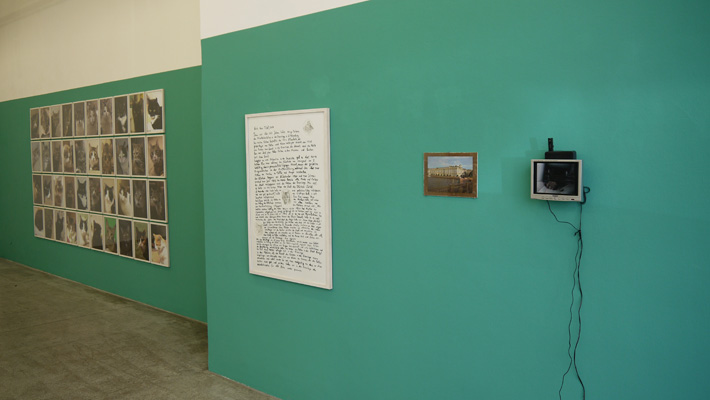 Ansicht: Kerstin Engholm Galerie, 2013
Ansicht: Kerstin Engholm Galerie, 2013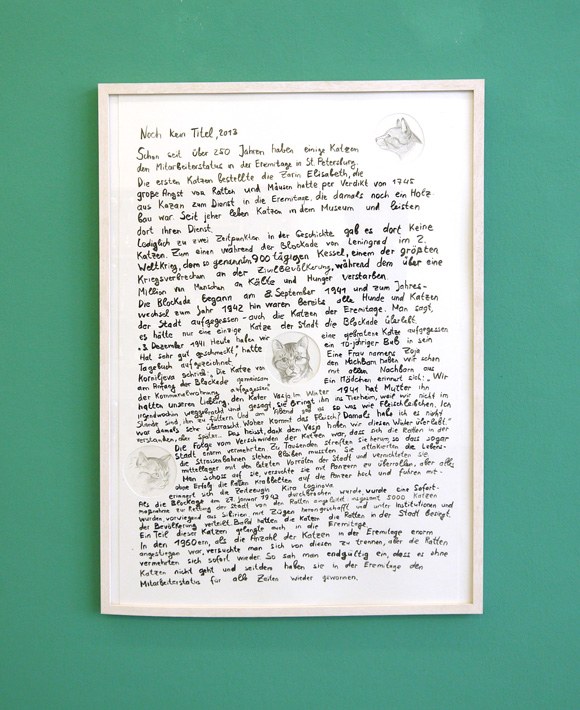 Ansicht: Kerstin Engholm Galerie, 2013
Installationsansicht from: Anna Jermolaewa, Good Times, Bad Times, Zacheta National Gallery of Art, Warsaw, Poland / Foto: Marek Krzyźanek
Installationsansicht from: Anna Jermolaewa, Good Times, Bad Times, Zacheta National Gallery of Art, Warsaw, Poland / Foto: Marek Krzyźanek
Installationsansicht from: Anna Jermolaewa, Good Times, Bad Times, Zacheta National Gallery of Art, Warsaw, Poland / Foto: Marek Krzyźanek
Since more than 250 years a couple of cats are employed by the Hermitage in St. Petersburg. Czarina Elisabeth, who had big fear of mice and rats, was the one who ordered the first couple of cats from Kazan via verdict from 1745 to the Hermitage, which was at those times still built out of wood.
Since then cats are living in the museum and are providing their service. Only at two points in history there haven't been any cats. On the one hand during the Siege of Leningrad during WW II, one of the cruelest war crimes on civilians, during which over 1 million people died of cold and hunger. The blockade started on September 8th 1941 and at the end of the year already all cats and dogs of the city were eaten up – including the cats of the Hermitage. It is said that only one single cat survived the blockade.
"3rd December 1941. Today we ate a roasted cat – tasted very well." noted a 10 year old boy into his diary. A woman called Zoja Korniljeva wrote: "We ate the cat of the neighbours all together with the other people of the public housing apartments." A girl remembers: "We had our darling, the tomcat Vasja. In the winter of 1942 our mother brought him somewhere and said that she gives him to the animal shelter, as we weren't able to feed him anymore. This evening we had some meatballs for dinner. I was surprised and asked myself where the meat was coming from. But I didn't get it back then, but later... So thanks to Vasja we were able to survive this winter." As a result of the disappearance of the cats, the rats multiplied in the city. Thousands of them were straying around and even the tramways had to stop sometimes because of them. They attacked the last cibositiy of the city and plundered it.
Kira Loginova, a contemporary witness, is remembers that people shot on them, tried to roll over them with tanks, but everything without any success.The rats crawled on the tanks and rode with them.
When the blockade ended on January 27th 1943, an immediate action to rescue the city took place: 5000 cats, most of them from Siberia, were brought with trains to St. Petersburg and were handed over to various institutions and the population. Soon the cats had defeated the rats and some of those cats came to Hermitage. In the 1960s, as the number of cats in the Hermitage increased enormously, one thought that it is time to get rid of them – but the rats immediately started to breed again. Therefore finally one realized that it's not working without the cats and so for now and forever they will be employed by the Hermitage.
***
Schon seit über 250 Jahren haben einige Katzen den Mitarbeiterstatus in der Eremitage in St. Petersburg. Die ersten Katzen bestellte die Zarin Elisabeth, die große Angst vor Ratten und Mäusen hatte per Verdikt von 1745 aus Kazan zum Dienst in die Eremtiage, die damals noch ein Holzbau war. Seit jeher leben Katzen in dem Museum und leisten ihren Dienst.
Lediglich zu zwei Zeitpunkten in der Geschichte gab es dort keine Katzen. Zum einen während der Blockade von Leningrad im 2. Weltkrieg, dem so genannten 900tägigen Kessel, einem der größten Kriegsverbrechen an der Zivilbevölkerung, während dem über 1 Millionen an Menschen an Hunger und Kälte verstarben. Die Blockade begann am 8. September 1941 und zum Jahreswechsel zum Jahr 1942 hin waren bereits alle Katzen und Hunde der Stadt aufgegessen - auch die Katzen der Eremitage. Man sagt es hätte nur eine Katze der Stadt die Blockade überlebt.
"3. Dezember 1941. Heute haben wir eine gebratene Katze aufgegessen - hat sehr gut geschmeckt." hatte ein 10jähriger Bub in sein Tagebuch aufgezeichnet. Eine Frau namens Zoja Korniljeva schrieb: "Die Katze von den Nachbarn haben wir schon am Anfang der Blockade gemeinsam mit allen Nachbarn aus der Kommunalwohnung aufgegessen." Ein Mädchen erinnert sich: "Wir hatten unseren Liebling, den Kater Vasja, Im Winter 1942 hat Mutter ihn irgendwohin weggebracht und gesagt, sie bringt ihn ins Tierheim, weil wir nicht im Stande sind, ihn zu füttern. Und am Abend gab es so etwas wie Fleischleibchen. Ich war damals sehr überrascht. Woher kommt das Fleisch? Damals habe ich es nicht verstanden, aber später... Das heisst dank dem Vasja haben wir diesen Winter überlebt." Die Folge vom Verschwinden der Katzen war, dass sich die Ratten in der Stadt enorm vermehrten. Zu Tausenden streiften sie herum, so dass sogar die Straßenbahnen stehen bleiben mussten. Sie attackierten die Lebensmittellager mit den letzten Vorräten der Stadt und vernichteten sie.