Ansicht: Anna Jermolaewa, KUB Collection, Kunsthaus Bregenz, 2023
Foto: Markus Tretter
Ansicht: Anna Jermolaewa, KUB Collection, Kunsthaus Bregenz, 2023
Foto: Markus Tretter
Ansicht: Anna Jermolaewa, KUB Collection, Kunsthaus Bregenz, 2023
Foto: Markus Tretter
Ansicht: Anna Jermolaewa, KUB Collection, Kunsthaus Bregenz, 2023
Foto: Markus Tretter
Ansichten: ANNA JERMOLAEWA, CHERNOBYL SAFARI, MAK, VIENNA, AUSTRIA, 2022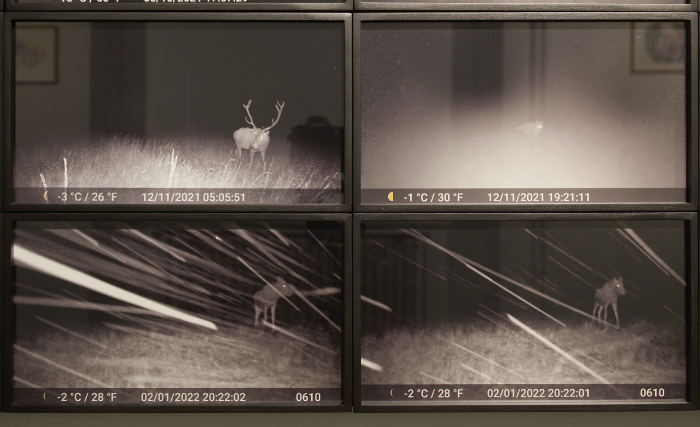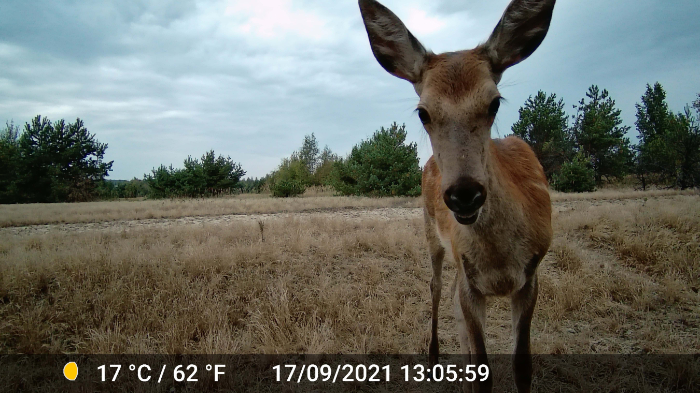 A central tenet of "deep ecology" is the belief that humankind should not be privileged over plants or animals when ecological choices are to be made. If this symbiosis between human, plant, and animal cannot be achieved, it is not difficult to imagine what will happen. Humans have repeatedly shown that they will wantonly destroy this planet, with perhaps one of the best examples being the nuclear disaster at Chernobyl. This perhaps supports a common ecological viewpoint that the planet would be much better off without humans.
However, is a world without humans even thinkable? In Chernobyl Safari (2014/21), Anna Jermolaewa presents the fauna of the Chernobyl Exclusion Zone in an attempt to do just that: think the world sans human. With no one hunting or encroaching on these animals' habitat due to the evacuation of the Zone's human population, the local fauna has thrived despite being constantly exposed to high amounts of radiation. In fact, the area is such a haven that over four hundred species flourish there, including fifty classified as endangered.
Jermolaewa went to the Exclusion Zone in 2014 and again in 2021, where she went on a safari in this unintentional wildlife refuge. She traversed forests and fields, capturing safari "trophies" with her camera, sometimes setting photo and video traps in order to do so. However, this project is not a documentary, the animals the artist doesn't capture she draws. For some of these drawings, she draws from the widespread myths she has heard about the Zone's mutated and "radioactive" beasts, imagining what these animals must look like.
Chernobyl Safari shows the Anthropocene in which we live, but without us, left alone by humankind. Since people have never experienced the world without at least one person in it (oneself), to think it without humans requires imagination…fantasy. Ultimately, this safari proposes that, in a habitat destroyed and then abandoned by humans, animals can thrive regardless of whether we can think it or not.
TEXT: SCOTT CLIFFORD EVANS