Ansicht: Im Paradiesgarten, Exhibition in public space in the course of the Wiener Festwochen, Vienna, 2010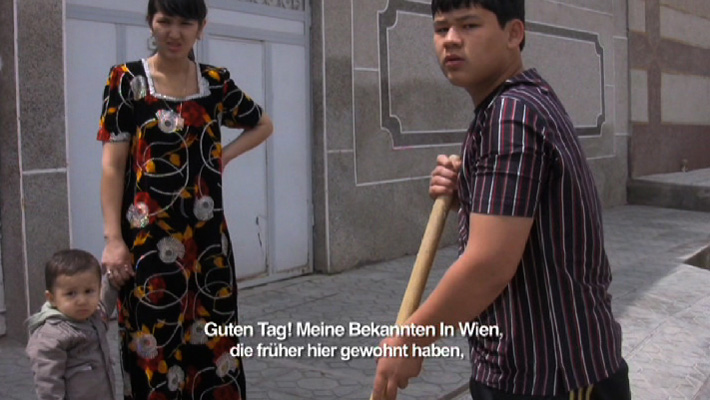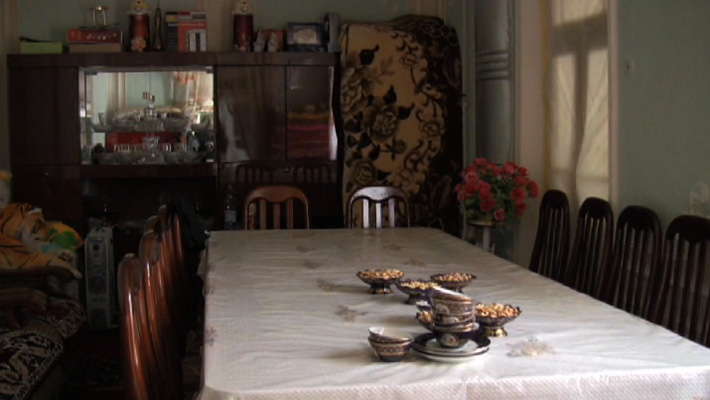 Samarkand ... a very large and splendid city ... (Il Milione: Wunder der Welt, Marco Polo)
Wussten Sie, dass annähernd die Hälfte aller Geschäftsleute am Naschmarkt aus Usbekistan, viele davon aus Samarkand, dem Herzen der Seidenstraße, kommt? Ebenso wie die meisten Schuster in Wien? Sie haben alle eine gemeinsame Geschichte: sie waren unter den 17.000 bucharischen Juden, die in den 70er und 80er Jahren aus der damaligen UdSSR Richtung Israel ausgewandert sind und sich, zum Teil über Umwege, in Wien niedergelassen haben. Bei einigen ist es bereits über 20 Jahre her, dass sie Samarkand zuletzt gesehen haben. Mittlerweile ist Wien außerhalb Israels die zweitgrößte Gemeinde der bucharischen Juden weltweit. Ich möchte die Orte miteinander verbinden, und so begebe ich mich, wie eine Handelsreisende, auf die Reise nach Samarkand – im Gepäck: Grußworte und Geschenke an Bekannte und Verwandte in Samarkand, auf meiner Auftragsliste: Stoffe, Süßigkeiten und Erinnerungen, die nach Wien gebracht werden müssen.
***
Did you know, that almost half of the business people on Naschmarkt are from Usbekistan, many of them from Samarkand, the heart of the silk route? Just as most of the shoemakers? They all share a common history: they were part of a 17000 Bukharan Jews community that were forced to leave the former UdSSR in the 1970s and 80s, and partly via detours, settled in Vienna. Some of them haven't seen their hometown Samarkand for more than 20 years.
By now Vienna hosts the second biggest community of Bukharan Jews in the world after Israel. I want to connect both places and thus i become a traveling salesman and i have following things in my luggage: Greetings and gifts from relatives and friends in Samarkand, and on my "to-do-list": fabrics, sweets and souvenirs, that have to be brought to Vienna.